Allianz modernizes IT to speed innovation and improve the customer experience.
Quick implementation
90% of contracts uploaded to the system
Ease of use
to track the status of claims
Focused on growth
agents able to spend time growing business
Allianz
"Successive layers were added over time, and our information system was very fragmented. It was vital to rethink it and to modernize it." Alexander Heinrich, Director of Organization and Architecture Solutions, Allianz France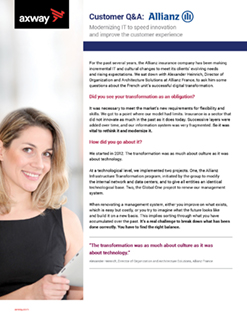 Do you have a story to tell about how you securely connect systems, apps, and people in ways that let you expand the reach of your enterprise to empower your business?