Why choose Axway?
Our partner culture sets us apart: We live and breathe collaboration, flexibility, and mutual success.
Building your business with Axway
Choose the engagement model and commitment level that's right for your business today, and grow with us in the future.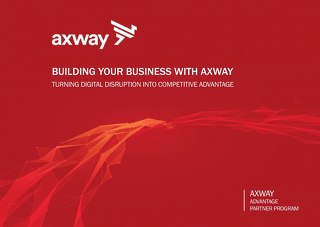 Technology partners
Integrate your hardware or software with Axway products and solutions to increase market opportunities and provide comprehensive solutions to customers. From co-marketing to OEM agreements, Axway offers a large range of technology partnership opportunities.
Managed services providers
By blending our innovative and award-winning products with your hosted managed service offering, running in your data centers or in the cloud, you can differentiate yourself from the competition while helping to protect and secure new partners and customers.
System integrators
Provide industry expertise, proven delivery capabilities, and executive-level commitment on a global or regional basis. Whether in a co-sell, referral or reseller mode, system integrator partners can pursue service-related business opportunities around Axway products, and team with Axway to better cover digital transformation projects.
Channel partners
Use your enterprise experience to identify new opportunities, add value with knowledge and expertise, and develop strong relationships with our mutual customers. Channel partners purchase Axway products and solutions at a discount, and resell those offerings at a partner-defined price. The ample margin drives a profitable and mutually rewarding relationship with Axway.
Ready to join forces with Axway?
Partner benefits
Comprehensive support and resources throughout the partner journey.
FINANCIAL AND BUSINESS SUPPORT
Joint business planning
Product and Services Discounts, Referral Fees
Growth incentives for all partners
Deal Registration process
Access to sales and presales resources, support during sales process
Free not-for-sale evaluation licenses
Assigned Alliance Manager
FULL ONBOARDING AND PARTNER ENABLEMENT PROGRAM
Learning Management system with self-paced training modules
Digital bootcamps to deep dive in use cases, business, functional and technical requirements
Comprehensive product training curriculum by profiles
Dedicated partner mentoring and coaching services offerings
Certification program
Monthly Business Booster Webinars
Annual Partner Conference
COMMUNICATION AND MARKETING
Access to Axway Marketing Materials, Sales Tools and Delivery Assetts through partner portal
Access to the amplify marketplace
Access to the axway community portal
Co-marketing and joint communication activities
Ready to join forces with Axway?