Empowering enterprises to unlock the value of their data with API-driven business-process outsourcing.
Two million API calls per day
on the DOME platform
Clients'mission-critical data protected 24/7
Entire scalability with 0 drop-off in productivity
Datlas, Looking for a flexible and highly integrable system that could connect their BPO platform with their customers.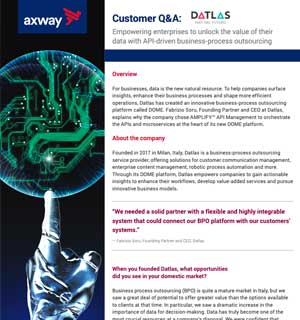 Do you have a story to tell about how you securely connect systems, apps, and people in ways that let you expand the reach of your enterprise to empower your business?