ENGIE accelerates the development of new data-driven services.
3x reduction
in data requests
''Portal of portals''
for 26 BUs
Increased standardization
in working practices.
Engie, Creating a data-driven, API-first Enterprise
Headquartered in France, the global ENGIE Group provides innovative low-carbon energy and services. With 160,000 employees and 24 million customers worldwide, the company generated revenues of 60.6 billion Euros from 103 GW of installed capacity in 2018.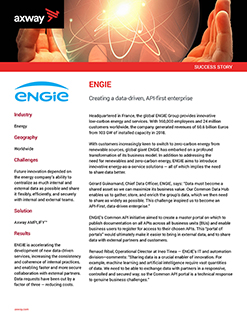 Do you have a story to tell about how you securely connect systems, apps, and people in ways that let you expand the reach of your enterprise to empower your business?