Novartis accelerates innovation with APIs and Microservices.
Onboarded 300 APIs
in the first year
Data available
for the benefit of the entire ecosystem
Accelerated pace
of clinical trials, shortening the time to market for medicines
Customer Q&A
Novartis has a rich history of investing in the most promising frontiers of science, the most exciting innovations in the business of medicine, and the most significant healthcare needs. As the industry faces acute disruption, the company's prescription for ongoing success hinges on APIs and microservices. Pascal Bouquet, Global Head of Architecture for Drug Development, answers a few questions about how digital transformation is moving Novartis forward.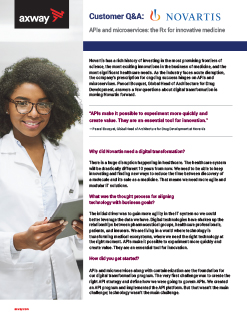 Do you have a story to tell about how you securely connect systems, apps, and people in ways that let you expand the reach of your enterprise to empower your business?