Business service provider created an integration platform that gives clients the ability to access services seamlessly and in real time via APIs.
Increased Revenues
through innovative products delivered in real-time
Improved time to market
of new products, delivering a competitive advantage
Gain real-time access
to crucial business information
Dun & Bradstreet
"Of all the API solutions that D&B considered, AMPLIFY API Management stood out as the strongest performer by far."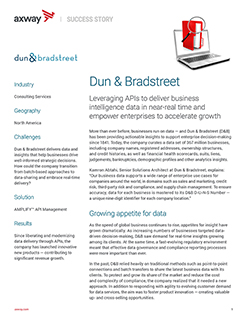 Do you have a story to tell about how you securely connect systems, apps, and people in ways that let you expand the reach of your enterprise to empower your business?