LUXHUB drives innovation through the use of API's.
800,000 end customers
ready to use the open banking API platform
25% cost/income
for Digital banks
24/7 availability
of banking API's
LUXHUB Success Story
"It's a marketplace. We already have 800,000 end customers ready to use the services on our platform in 2019." Jacques Pütz, CEO LUXHUB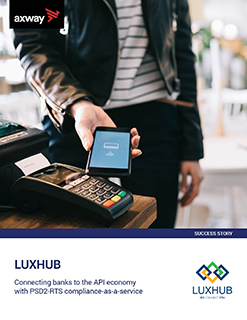 Do you have a story to tell about how you securely connect systems, apps, and people in ways that let you expand the reach of your enterprise to empower your business?