Embedded Analytics
Ready-to-use analytics capabilities inside Axway products and solutions including AMPLIFY™ API Management, B2Bi, and SecureTransport.
Embedded Analytics for AMPLIFY API Management
Real-time insights empower API product managers, API platform owners, and community managers work smarter, align with business and IT more proactively, and resolve business and IT issues more effectively.
Embedded Analytics for SecureTransport
Ready-to-use analytics built on AMPLIFY Decision Insight offer immediate value to SecureTransport admins and community managers by proactively identifying file-transfer issues and unsatisfactory partner experiences.
Addressing 5 key B2B visibility challenges
Transforming from reactive to proactive
A reliable file-transfer service is a vital piece of a digital B2B ecosystem, supporting mission-critical business operations and helping to avoid missed SLAs with business partners. But it takes operational intelligence and real-time visibility to detect and mitigate external factors that can lead to file-transmission issues.

Find out how Embedded Analytics for SecureTransport can help you constantly monitor file-transfer activity and proactively identify abnormal situations before they impact business operations and relationships.
Download the Embedded Analytics for SecureTransport solution brief
How to optimize the customer experience by empowering business with self-service file transfer intelligence.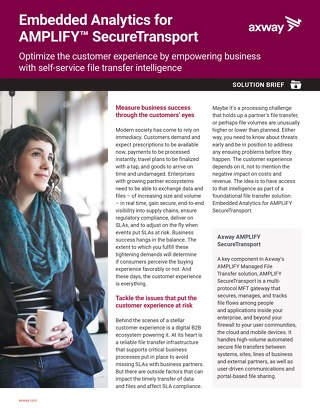 Monitor your business with EA4ST
Answer the most prevalent questions posed by stakeholders, such as, "Where's my file?" and, "Which files are at risk of missing a deadline or an SLA?"
Allow stakeholders to monitor long-term SecureTransport activity directly related to their business unit
Use prebuilt dashboards in Embedded Analytics for SecureTransport for both IT and business users
Identify unexpected activities
Get real-time alerts to potential issues such as a disparity between actual processing volumes and expected volumes
Proactively identify file transfer behavior that could put MFT service quality at risk, or partners whose abnormal transfer activity could lead to a bad experience
Resubmit previously failed transfers to ensure continuity of service
Improve service quality, revenue, and profitability
Rapidly gain additional value from your existing Axway investment with out-of-the-box functionality and quick production deployment
Meet all your SLAs and regulatory requirements
Identify new business opportunities that will increase revenue while cutting costs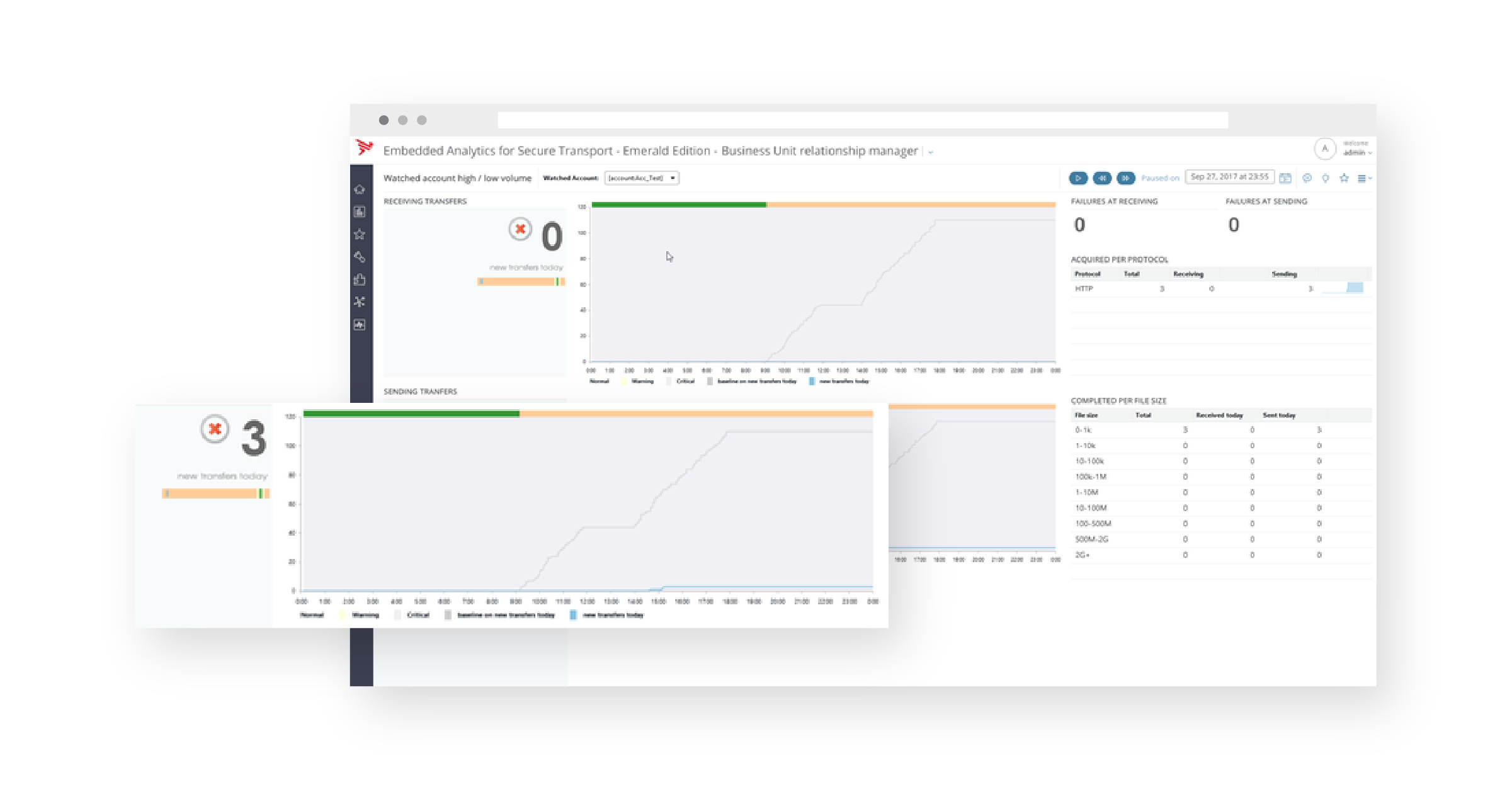 Embedded Analytics capabilities
More responsive MFT environment
Be notified immediately of critical issues or failures through configured punctuality checks along with in situ resubmit tooling to ensure the swiftest possible resolution. Enable email or SNMP notifications on specific punctuality checks or file transfer completion events using prebuilt alerts.
See everything quickly with prebuilt dashboards
Get an at-a-glance view of any abnormal activity on SecureTransport or the business unit – and investigate any underlying failure – with file transfer performance dashboards. A dashboard for monitoring overall service usage also offers at-a-glance visibility.
Go from zero to value in under four hours
Start leveraging the full value of Embedded Analytics for SecureTransport right away with automated installation and self-service start up guidance.
Upgrade to full Decision Insight
Extend your investment to a full ADI license across all lines of business for visibility into other systems including APIs, message queues, databases, files, logs used in payment processes, supply chain logistics, workforce monitoring, and others.