Transition Portal
Modernize your MFT infrastructure by transitioning from InterPel or XFB Gateway to AMPLIFY Managed File Transfer
Modern Platform
Move from your legacy solution to a modern platform to meet all of your MFT needs
Central Management
Benefit from AMPLIFY Flow Manager for the central management of all of your flows
Rapid Onboarding
Empower your employees with self-service capabilities for rapid onboarding and rich analytics functionality
Transition at your own pace
Provide your integration managers with a detailed assessment of the current flows allowing them to make informed decisions
Equip your technical teams and integration partners with the tools required for a successful migration
Transition flows progressively to lower impact of transition
Simplify your migration project
Reduce risk by leveraging Axway's expertise and experience
Increase consistency and accuracy of the migration to streamline your operations
Speed up the migration by re-using pre-configured patterns
Comprehensive offering
Packaged offering including migration tool, enablement and assistance
Using Transition Portal
Assessment of existing flows in the legacy solution
Detection and enrichment of existing flows, using pre-defined patterns
Migration of flows to AMPLIFY Flow Manager
Benefits of a modern MFT platform
Reduce friction between IT and business users, and improve time to market, by providing rich self-service capabilities to IT and business users.
Leverage API capabilities to integrate management and user functionality into other applications
Comprehensive analytics capabilities for better visibility into your business
Transition Portal solution brief
Automate the migration of your existing legacy infrastructure to AMPLIFY™ Managed File Transfer
Quickly modernize your MFT infrastructure with Transition Portal
Use Axway Transition Portal to accelerate and simplify the transition from your legacy solution (such as XFB Gateway or InterPel) to Axway Managed File Transfer
Build on your existing flows to leverage your past investments and keep your business running
Gain the advantages of a modern MFT platform: scalability, self-service, deployment choice, centralized administration, and total governance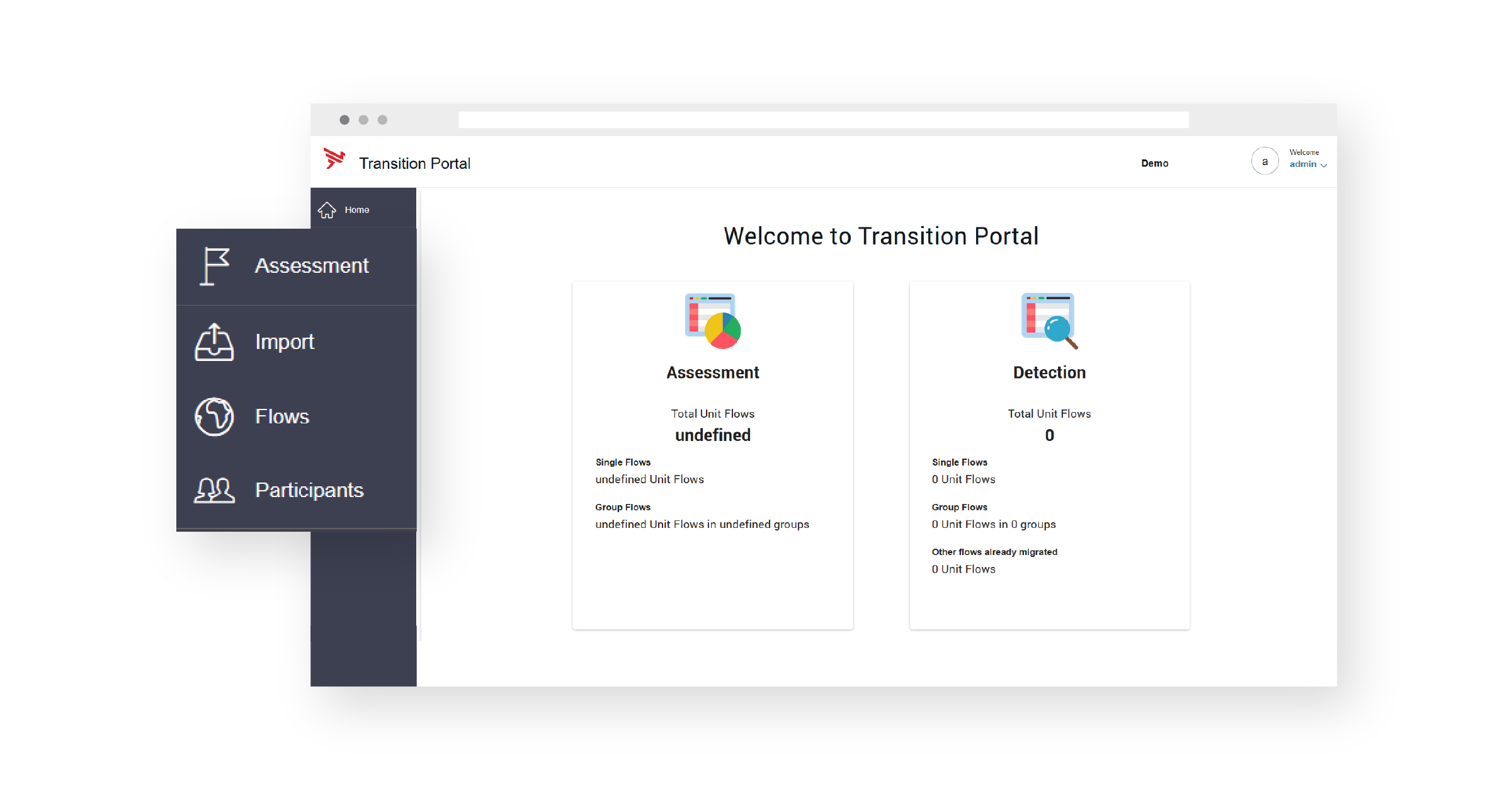 Reduce risk and simplify your transition project
Reduce risk and cost of transitioning by leveraging Axway's expertise, experience, and tooling – all in one package
Automate tasks to increase the consistency and accuracy of your migration and to streamline your operations
Use templates to standardize your flows and significantly speed up the transition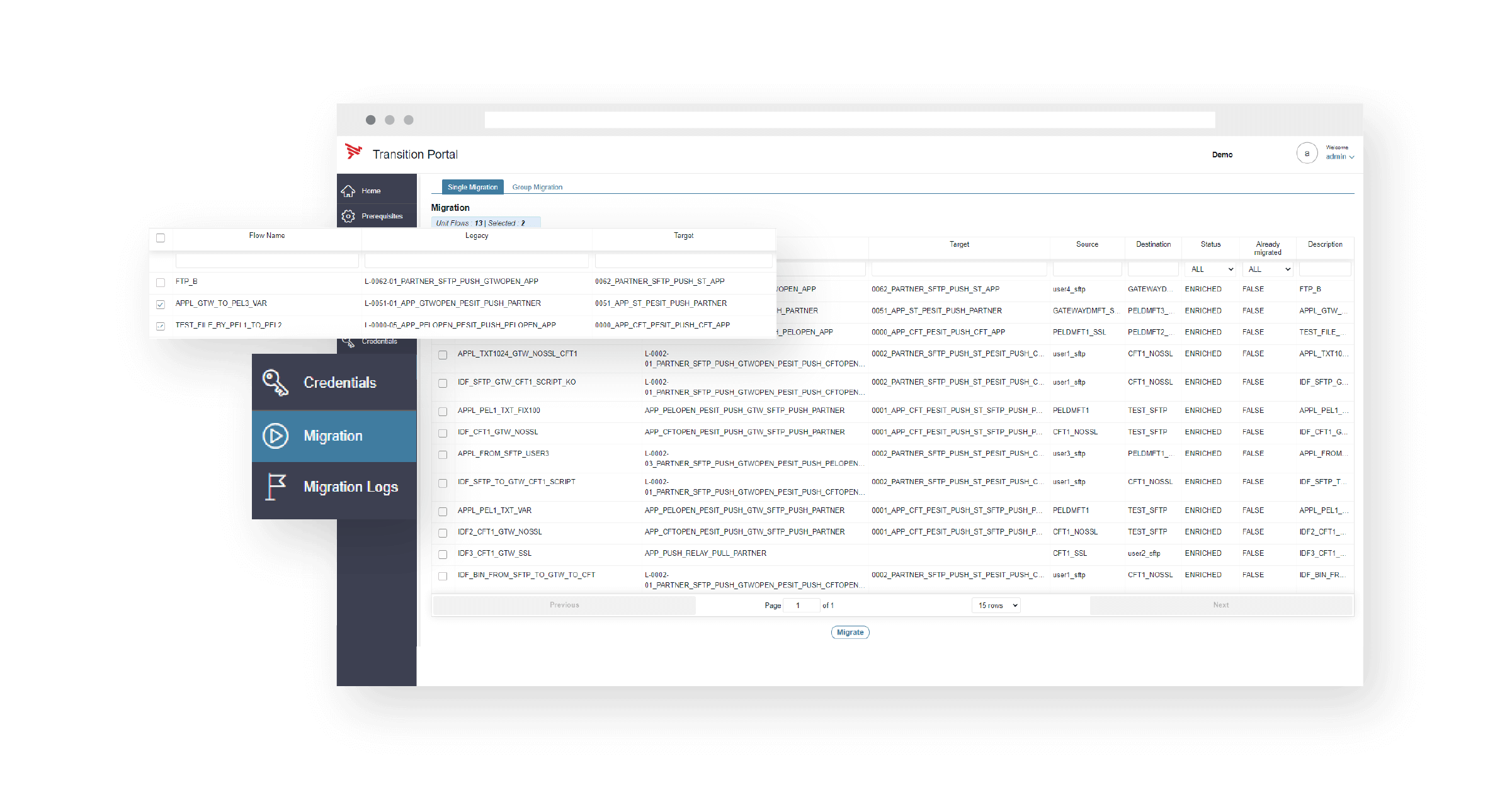 Manage every step of the transition
Provide your integration managers with a detailed assessment of the current flows so they can make better informed decisions
Give your technical teams and integration partners the tools they need for a successful migration
Work with Axway to implement best practices and ensure success of the transition project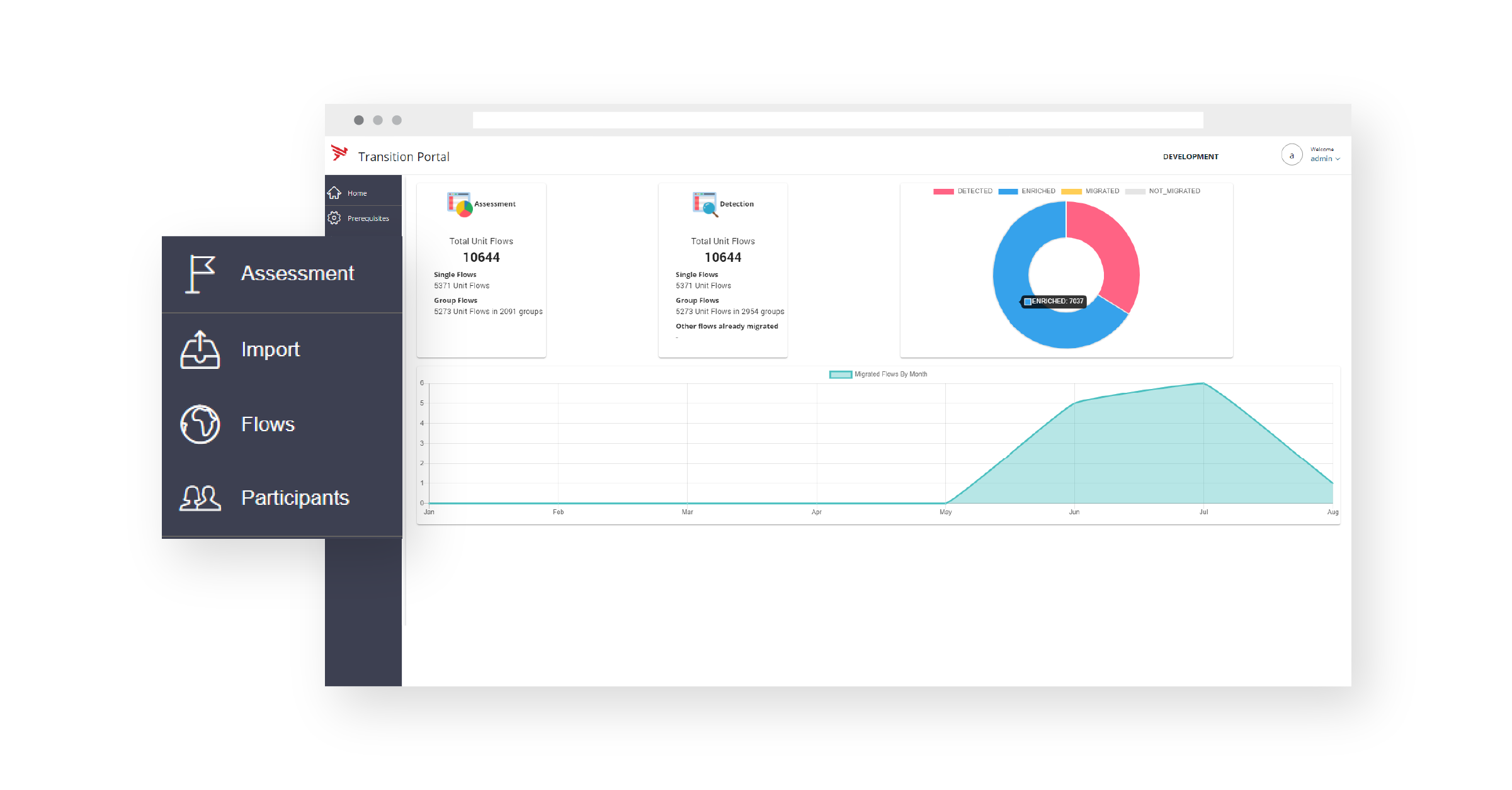 Transition to more capabilities
Assess your existing environment
Perform an assessment of your current environment and ensure you have the information you require to plan your transition project.
Detect, enrich, and map your flows
Detect existing flows, enrich them with their detailed parameters, and map them to templates so they can be transitioned. Create templates to significantly speed up the transition of subsequent flows.
Transition to Axway Flow Manager
Get the rich, enterprise capabilities required to meet your MFT needs by transitioning your existing flows to Flow Manager so they can be deployed to Axway Transfer CFT or Axway SecureTransport.
Get help from Axway as part of the package
Ensure your MFT teams are equipped with all they need to perform the transition. The solution includes enablement and assistance from Axway MFT experts.