What is full lifecycle API management?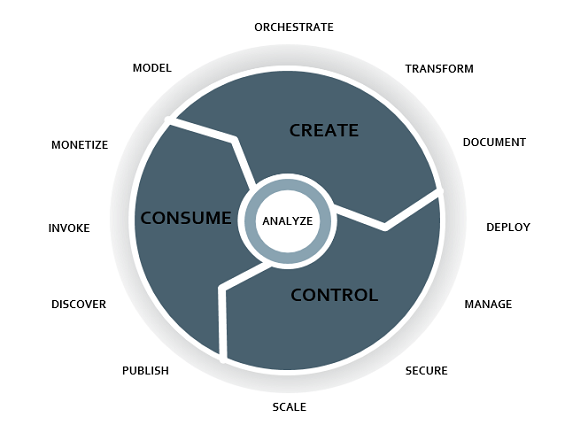 Full lifecycle API management is the entire lifespan of an API that begins at the planning stage and ends when an API is retired. It provides the platform for digital strategy, building ecosystems, and running an effective API program. 
API Strategy
Developing a well thought out API is a critical piece of digital transformation and helps provide a positive outcome for businesses. From ideation to monetization, having a well-defined plan will make the entire process run smoother and help identify and potential roadblocks.
API Lifecycle Stages
There are three key components of an API lifecycle (create, control, consume) with analytics at the center of it. Each component of the lifecycle can be broken down into several stages.
What are the top stages of an API Lifecycle?
Building: Once you have a solid strategy and plan in place, it's time to build your API. AMPLIFY API Builder helps build and assemble APIs with ease.
Testing: Before publishing, it's important to complete API testing to ensure they meet performance, functionality and security expectations.
Publishing: Once tested, it's time to publish your APIs to become available to developers.
Securing: Security risks and concerns are a common problem today. We've compiled the top 10 security risks when releasing your APIs.
Managing: Once published, your developers need to manage and maintain APIs to make sure they're up to date and the integrity of your APIs isn't compromised.
Onboarding: When you offer your APIs for public or private consumption, onboarding is an important component so developers understand the key capabilities.
Analyzing: Your APIs are live but how are they performing? API Analytics help you understand your digital business and catch abnormalities before they impact your business.
Promoting: There are several ways to market your API including listing it in an API Marketplace.
Monetizing: You can choose to offer your APIs for free or when there is an opportunity for it, you can monetize your APIs and drive additional revenue for your business.
Retirement: Retiring APIs is the last stage of an API lifecycle and happens for a variety of reasons including technology changes and security concerns.
API Management Tools
One tool used is a developer portal, which is the interface between APIs and their stakeholders. It's used to target, market, and govern communities of developers who use the API. It also offers other useful features like runtime management, API analytics, and gives the estimation of an API's value.
API gateway is another tool used which is programming that sits in front of an API and acts as a point of entry for a defined group of microservices. Some benefits to using an API gateway is providing the optimal API for each client, reduces the number of requests, and it enforces security policies.
Accelerating Innovation
API Management has been evolving over the years with enterprises pushing the technology envelope by enhancing efficiency and changing how people use technology. Learn six ways to scale enterprise-level APIs and microservices and how you can accelerate innovation and digital transformation.