Powerful integrations, lightweight footprint
AMPLIFY™ API Builder is the industrial-strength but lightweight superglue you use to connect your different systems and architectures together—whether on-premises or in the cloud. Combining a powerful framework for creating your own hosted APIs with flexible connectors for all kinds of systems, you can extract, model, transform, and optimize data in minutes. 
Start with the API or the data
Start with the contract by building your API with an OpenAPI Specification or start with a data source and generate your API in seconds.
With API Builder, developers can extract, model, transform and optimize data for any app client—whether native or web—in just minutes.
Use pre-built connectors, or create your own
Get to productivity faster by choosing from our stock of pre-built connectors, or easily creating custom reusable connectors.
API Builder is designed to work with your existing environment, leaving a small footprint on your API architecture while still providing all the speed, flexibility, and power of API creation you need.
Microservice-friendly, connect any architecture
Create a dynamic service mesh with APIs at varying degrees of granularity to unlock the data trapped in your organization and deliver new business value.
API Builder can connect to different service providers:
Databases
REST and non-REST APIs
Event driven architectures powered by Kafka, Solace, or AMPLIFY Streams.
Cloud applications
Need more customizability? Extend API Builder by creating plugins quickly and easily with our SDK.
Deploy and scale your integrations gracefully
Each integration runs in its own container that scales as wide as you want, and can be deployed in an on-premises environment or in the cloud.
Taking your API deployment to the cloud? AMPLIFY Runtime Services makes it easy to publish your APIs and microservices to a cloud container environment without downtime for upgrading.
Underlabs — Canadian airport gets 'smarter' using APIs to connect to Amazon Echo devices
On the leading edge of aviation infrastructure, Underlabs used API Builder to create and host the Alexa Skill Service at one of Canada's biggest airports.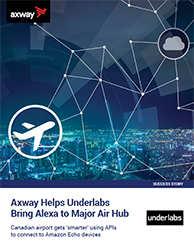 Accelerate the development of APIs and microservices projects
The real pain in application development is data. Building coherent, compelling app experiences means orchestrating data from a wide range of back-end sources, legacy formats, and integration protocols. API Builder eliminates back-end dependencies for faster app releases and unifies front- and back-end development in a single open language with JavaScript.
Watch the Stoplight and API Builder demo
Design your OpenAPI (Swagger) compliant API using Stoplight's visual editor then easily develop and test your API with API Builder.
Watch the Video
Watch the API Builder Standalone demo
API Builder is a tool that enables developers to rapidly create APIs and microservices. This video is a high-level introduction to the product and its features.
Watch Video
Start building today
API Builder is part of the AMPLIFY integration platform. Start your free trial to begin creating, scaling, securing, and deploying powerful APIs for your applications today.
Start Free Trial