Amplify API Management Platform features
Full lifecycle API Management that simplifies adoption and use of APIs for optimal business value.
Discover APIs
Integrate existing API data planes regardless of API pattern. Connect multiple vendor gateways such as AWS, Azure, Apigee, and MuleSoft. Deploy on-premises or any private or public cloud.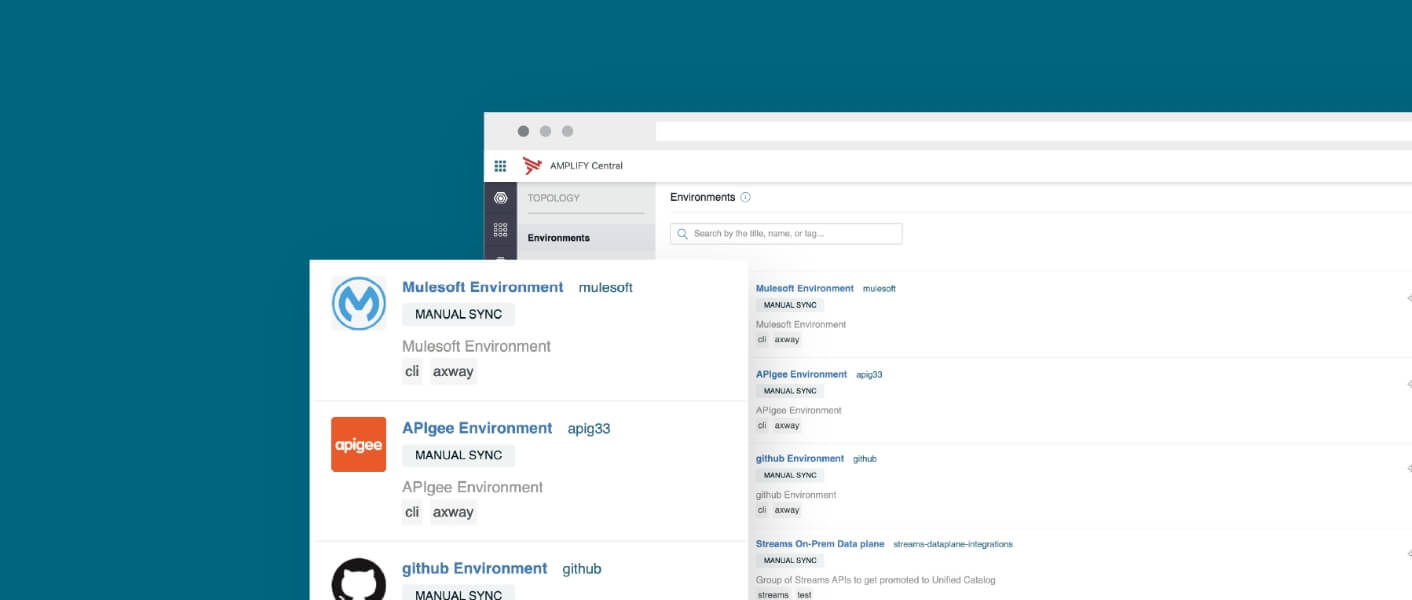 Validate and secure APIs
Support data security and privacy regulations such as SOC2, PCI DSS, HIPAA, and GDPR. Reduce risks with Common Criteria EAL4+ certification (pending) – the highest certification for API management solutions.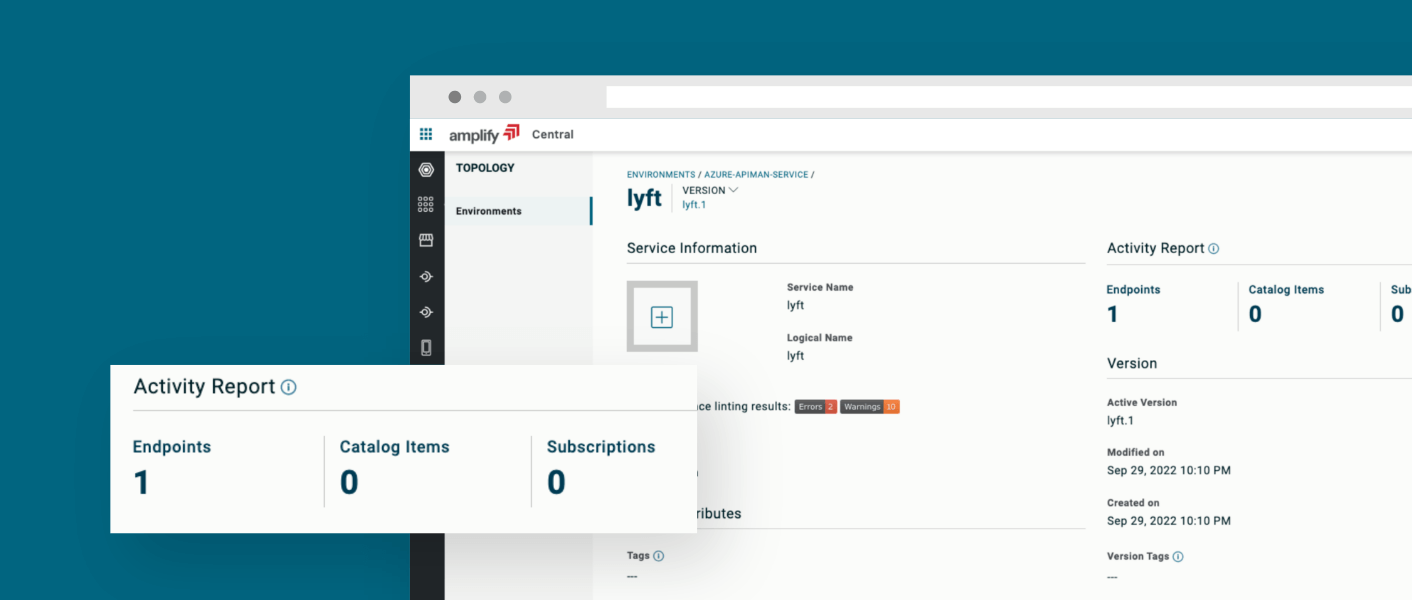 Curate and manage APIs
Group and refine APIs into assets to analyze dependencies, aggregate resources, select versions, and track API adoption and engagement. Track usage across all your API assets.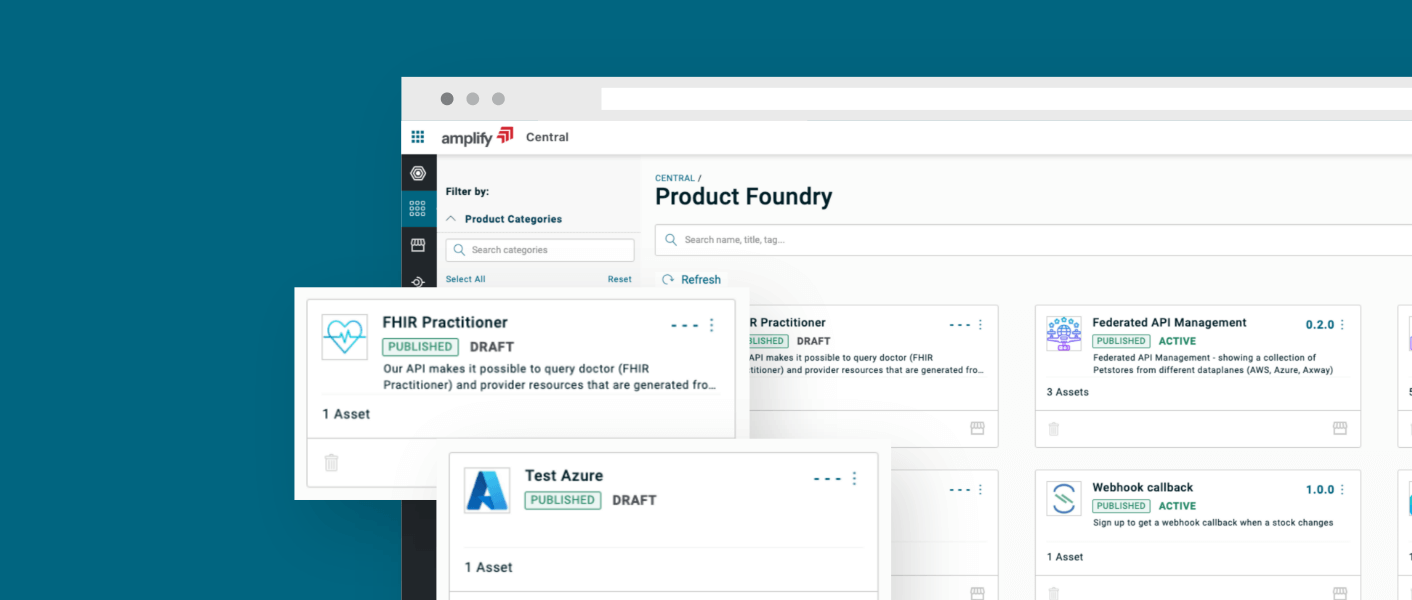 Productize and monetize APIs
Create API products that can be bundled by domain or audience, documented, and tagged. Drive API adoption and monetization by approaching your APIs as marketable products.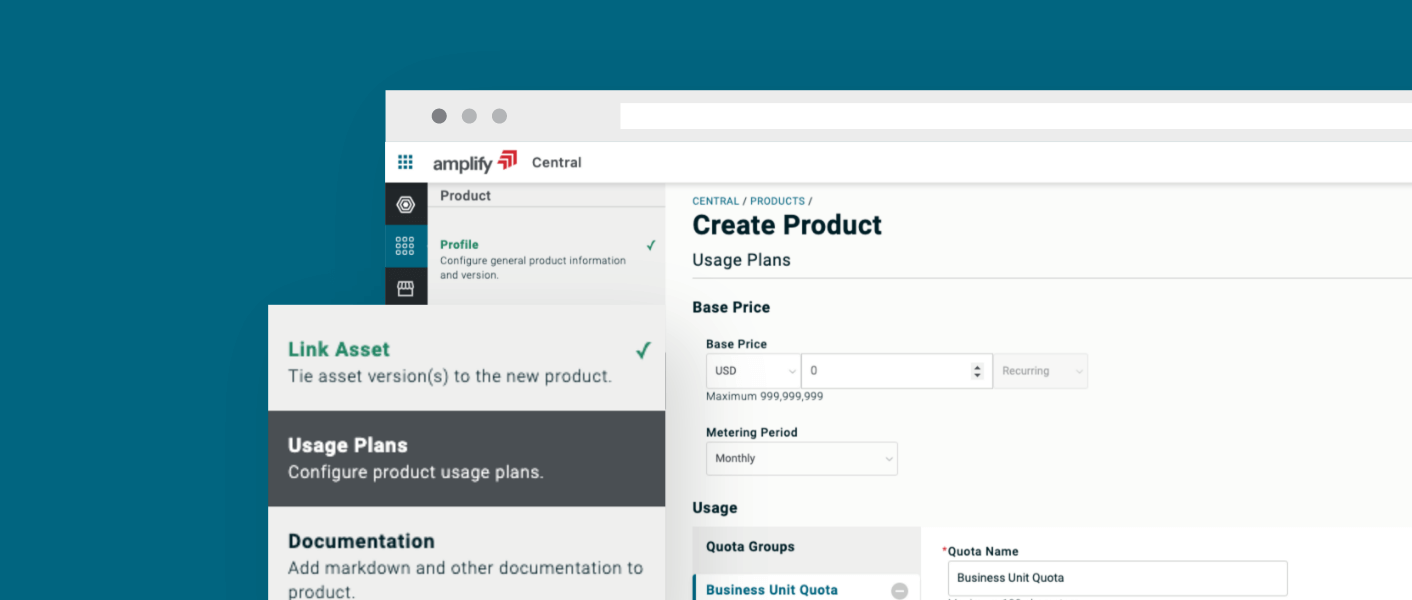 Grow API adoption
Simplify internal and external API consumption. Leverage insight from data generated by API use, reuse, and performance to weed out APIs that aren't working and promote the ones that are.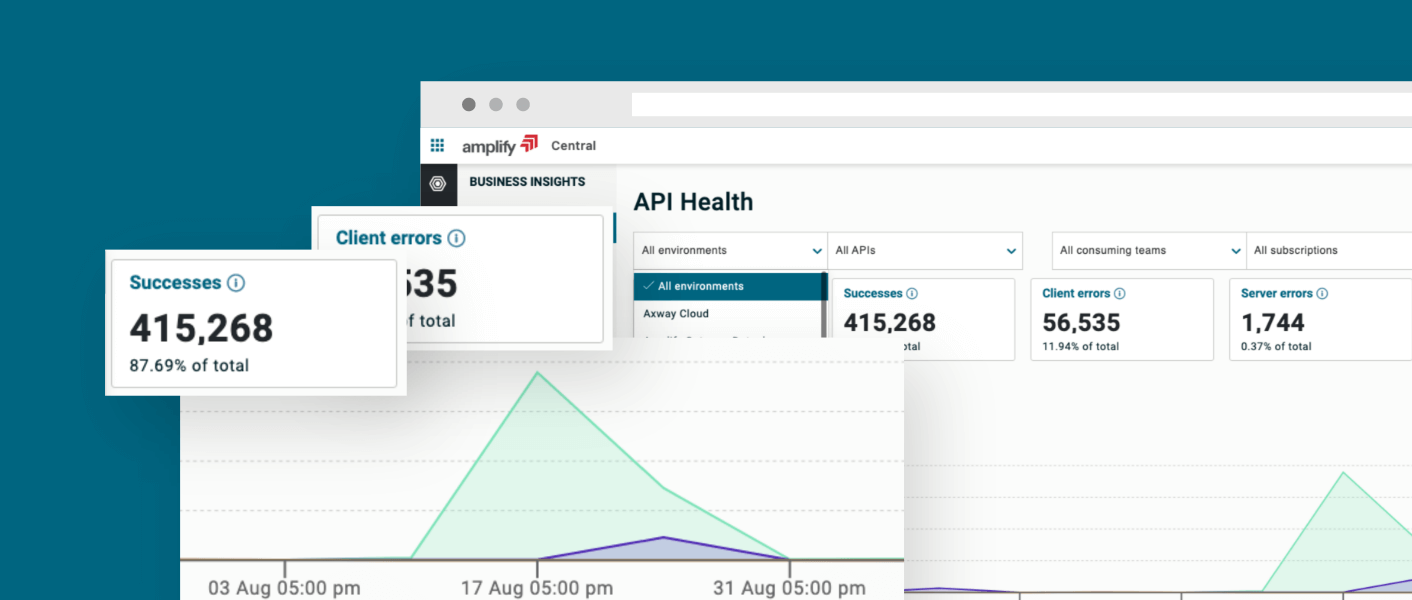 How Axway Amplify API Management Platform compares
Other providers only let you monitor and govern assets originating directly from them. But with the Amplify API Management Platform, you're in total control of all your APIs and events across gateways, vendors, and environments.
This makes Amplify one of the top solutions in the market. Here's how Amplify stacks up.
| | OPEN APPROACH TO API MANAGEMENT* | DEPLOYMENT OPTIONS | EASE OF USE | DIGITAL AND BUSINESS EXPERTISE | VALUE |
| --- | --- | --- | --- | --- | --- |
| | ★★★★ | ★★★★ | ★★★ | ★★★ | ★★★★ |
| Apigee | | ★ | ★★★★ | ★★★★ | ★★ |
| Broadcom CA Layer 7 | | ★★★ | ★★ | ★ | ★ |
| IBM | ★★ | ★★ | ★★ | ★ | ★★ |
| Kong | ★ | ★★ | ★★★★ | ★ | ★★ |
| Mulesoft | ★★ | ★★★ | ★★★ | ★★★ | ★★ |
| Software AG | ★★ | ★★★★ | ★★ | ★★ | ★★★ |
| WS02 | ★ | ★★★ | ★★ | ★ | ★★★ |
*Open Approach to API Management denotes ability to work: (1) with third party solutions, (2) across environments, (3) beyond SOAP and REST APIs (such as events or GraphQL), and (4) for non-developers with low-code tools.
Our industry recognition speaks for itself

A Leader in the 2022 Gartner® Magic Quadrant™ for Full Life Cycle API Management. Read the Gartner report to learn more.

Best in Microservices Infrastructure at API World 2020
Compatibility and implementation
Amplify API Management Platform provides automated discovery and management of your APIs and integration patterns across solutions and environments by leveraging prebuilt agents, CLI, and SDK. Prebuilt agents monitor traffic and usage of APIs across solutions such as AWS or Azure. With an SDK, you and a partner can build your own.
AWS API Gateways via Agent
Azure API Gateways via Agent
Amplify Application Integration
Automated efficiency
Agent-based discovery or CLI extensions let you manage APIs and gateways from AWS, Azure, and others automatically
Open API platform
Use what you have now — and tomorrow — to build and manage APIs. Maintain central governance independent of future technological decisions.
Amplify Platform customer case studies
What is an API management platform?
An API management platform (APIM) makes it simple to collect, manage, distribute, secure, and control all the APIs you use to connect applications and data across your enterprise. This gives your developers the visibility they need to create or use APIs efficiently in a multicloud or hybrid environment for maximum consumption.
An API management solution lets you easily create a unified catalog of all APIs that have been developed internally or by third-party partners. By making your APIs available all in one place, developers can easily find and reuse approved APIs. In addition, a platform for API management helps ensure that APIs are developed in compliance with your overall governance and security policies.
By using an APIM to make APIs easier to manage, you can deliver new services and applications faster and with a more consistent level of quality, helping you decrease your time to deployment, drive revenue, and increase customer satisfaction.
APIs are a critical tool for connecting the data sources required to build a digital business. However, independent development teams spread across different locations often rely on multiple API tools, vendors, and deployment environments. As a result, they frequently reinvent the wheel creating new APIs that have already been developed elsewhere in the organization. An API management tool helps you leverage APIs in your business to their fullest extent. The benefits of a unified platform for API management services include:
Reduce API complexity by unifying access to all your API services across the entire enterprise, simplifying API consumption.
Drive productivity by allowing developers to easily find and reuse APIs that have been developed instead of wasting time and money recreating APIs that already exist.
Enable enterprise security by centralizing control and visibility of all APIs used throughout the entire organization.
Modernize legacy applications by deploying an API-first layer that allows you to add new digital services while delivering a seamless, modern customer experience.
Organizations with varied, independent development teams across geographies need an API catalog to manage and share APIs while ensuring governance. This allows developers to quickly find the API building blocks they need to complete their work faster.
Developers can still use the separate API tools, vendors and environments they're used to; an API platform simply centralizes management so everyone knows where to look. This central hub makes it easy to work with APIs at scale instead of juggling APIs across dozens or even hundreds of different services.
Contact