AmerisouceBergen delivers lifesaving experiences to their customers through mobile applications.
Faster delivery
of value-added healthcare services to patients
40% increase
in employee productivity on mobile team
Enhanced experience
for the patient that promotes better healthcare outcomes
AmerisourceBergen's innovative mobile applications support its mission of delivering life-saving medications efficiently, reliably and securely to the patients who need them.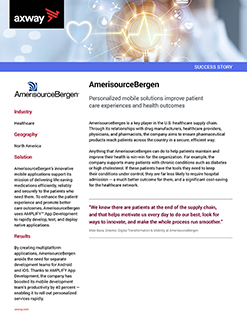 Do you have a story to tell about how you securely connect systems, apps, and people in ways that let you expand the reach of your enterprise to empower your business?